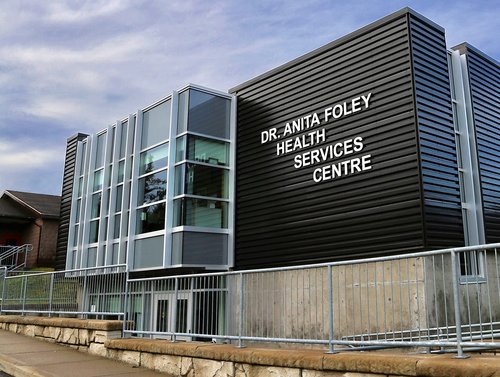 An outstanding place to practise medicine
Our expanded hospital with new doctors offices is just part of the attractive offering of Guysborough Memorial Hospital and our community to physicians. See for yourself: hospital video, community video.
doctors Make a difference here
If you're looking to practice full-spectrum family medicine in a place where you'll know — every day — that you're making a real difference, then Guysborough is for you!

In Guysborough you'll experience a warm and welcoming community, full of respect and appreciation for what you do.

Physician offices in the Doctor Anita Foley Health Services Centre are located on the lower floor of the hospital, making it an easy transition for doctors and patients requiring access to hospital services. We have an Alternative Payment Plan (APP) contract for office work and a separate contract, with a generous hourly stipend, for after-hours on call work. Our office offers a collaborative practice which includes a Nurse Practitioner and a Family Practice Nurse. Our doctors care for inpatients, nursing home patients and cover our small ER. The province provides a rural locum program for holiday coverage.

Additional Financial Incentives from the Municipality of the District of Guysborough
Visit MODG here to learn about additional incentives from the municipality.
Additional
Please visit www.cpsns.ns.ca where you can find further information regarding licensure in Nova Scotia. You can also do an online review of qualifications. Any questions regarding registration can be directed to registration@cpsns.ns.ca for further information on the process."
Incentives
Nova Scotia offers a variety of generous incentive programs including:
• Site-visit program
• Relocation-allowance program
• Debt-assistance program
• Return of service family medicine bursary program • Physician tuition relief program
• Incentives for on-call duty
• Guysborough Memorial Hospital Foundation House available as housing option
For details on these programs and current practice opportunities at Guysborough Memorial Hospital, please contact Victoria MacAulay, Physician Recruitment Consultant, at victoria.macaulay@ns.health.ca.
.
Contact us
We welcome your interest and are happy to tell you more about Guysborough Memorial Hospital, our incredible community and the opportunity to establish and grow your medical career here.
For more information on Guysborough Memorial Hospital and physician opportunities, please contact Leona Purcell, Facility Manager, Guysborough Memorial Hospital Leona.Purcell@NShealth.ca.